Turn your floral hobby into a profitable business and create your dream lifestyle with this Grow by Lime Tree Bower course
Do you love playing with flowers and dream of quitting your day job one day to become a florist?

Do you aspire to start a side hustle arranging flowers for weddings, but you're not sure how to start?

Do you want to get paid doing what you love and create a brand that looks pro from day one?
Yes, you can! And you're at the right spot.

Learn how to create your dream floral hustle with the Hobby to Hustle online course.
Hey, I'm Helen!
I started up my floral business, Lime Tree Bower, just over two years ago. I create bold, artistic and whimsical floral magic for weddings and events, whilst sharing my journey and craft along the way. I'm incredibly passionate about inspiring more creativity in this world that we live in, and I'm honoured that I can do this through mother nature's finest - flowers.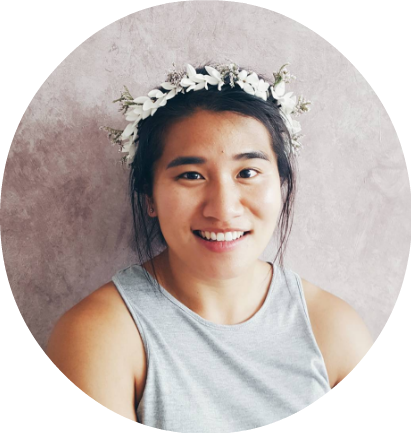 When I first started, flowers was also just a fun weekend past time for me, and over time it grew into a side hustle and then now a full-time business. In the beginning, I was working a day job (completely unrelated to flowers), and spent many early mornings, late nights and weekends hustling on my business.

Within just two and a half years, I'd grown my business to a portfolio of 50+ weddings, left my day job and have thousands of amazing fans and followers. Now I've taken all that I've learned and put my heart and energy into creating a course to teach you how to create your own dream lifestyle with flowers.
If you're anything like I was when I first started Lime Tree Bower, then you might be feeling a bit all over the place and uncertain. There's so much to do and it's not always obvious what you should be doing. What will work or won't work? Not to mention that you have limited time and money to spend on all this due to #reallife.

But that doesn't stop you from dreaming about the future. Hopefully that day will come, when you land your first wedding, and maybe... just maybe, one day you'll get to add florist to your Linkedin profile!

Yep. I know the feeling. I've been there too, and I remember wishing wouldn't it be so much easier if there was something that existed that could have helped me. Something that could have put me on the right track from day one. Like some sort of blueprint that I could follow, to give me confidence in knowing what I'm doing will work. That I'm doing the right thing so I don't have to waste time trying to figure it all out.
Hobby to Hustle is the online course that I wished I had.
It's filled with all my best and tested strategies that will help you hustle effectively. You don't need to write a five year business plan, hire a web developer or get an expensive camera to succeed - even more so when you're just starting out. In my course, I'm teaching you exactly how to hustle wisely so you can start landing customers in no time!
What's inside the course?
Module 1: Business strategy
+ How to create a practical business plan, and why it's the #1 thing you should do
+ What to do when you have a zillion ideas and don't know which to choose
+ How to start taking action - i.e. really get hustling!
+ How to carve out time in your life to spend it on building your business
+ What business admin & legal stuff to think about when you're just starting off

I go deep into all things strategy in this module. This is something that is frequently skipped and yet, so incredibly vital in order to set you up for success! How do you use "strategy" to succeed in your business? What happens if you have too many ideas for your business - how do you prioritise what to work on first? All the tough questions. I'm going to help you answer them all, so you can get the foundations right.
Module 2: Branding

+ How to use branding to attract your ideal customers
+ Good vs bad branding case studies
+ How to define your brand - a three step approach
+ Tips and tricks for visual branding

This is where we go through all (fun) things to do with branding - this is so much more than just a logo and choosing fonts for your website. I teach you how to create and leverage your branding to attract your ideal customers - the people who will love what you create, your fans. We're going to define your brand strategy and learn simple hacks to create a pro-looking brand that anyone can use, without needing to hire a designer!
Module 3: Building your MVP

+ What a MVP is (i.e. not the basketball term) and how to use this approach
+ Which areas to invest your time and money on in the beginning
+ The golden rule to hustle marketing
+ How to build content and make you look pro when you have no portfolio of work
+ How to get customer feedback early and spread the word about your business affordably

Building a new business from the ground up is hard, I'm not going to sugar coat it. The reason a lot of them fail is because they're not using the MVP approach, and wasting too much time and money on unnecessary things too early. I'm going to teach you how to think about your business as a MVP, and share my best content and marketing strategies with you, so you can start getting noticed!
Module 4: Pricing

+ What's in a price and how it can change
+ How to price your work, using 3 strategies with examples
+ My pricing calculator template
+ Tips and tricks on pricing, including averages and raising prices

One of the hardest things to get my head around when I first started was pricing, so I'm sure you might be feeing the same! We'll be going through pricing starting from the very foundations of what it is made up of, so you can be empowered to manipulate it as you grow. I teach you my three approaches to pricing your work and how to use my trusty pricing calculator, so you can start getting paid what you're worth.
Module 5: Event Preparation

+ What questions you must ask the client before the day of your gig
+ How to create a schedule for the day before and the day of the gig, so it runs without a hitch!
+ Tips and tricks around executing on your gig so you smash it out of the park
+ The success principles worth knowing and plastering on your wall

We're going to go through all the nitty gritty details involved in making sure you're sorted for when you end up booking your first gig. Whether it be a wedding or event, learn the right questions to ask so you can be prepared. Avoid making the same mistakes I made and get it right first go.
Okay, I'm sold.
So how much is it?
Hobby to Hustle is a course built to help anyone looking to turn their floral hobby into a profitable business to create their dream lifestyle. Obviously you can figure all this stuff out on your own: googling, searching across Facebook groups, stalking people on social media, saving a ton of blog posts and emails, and then piecing it all together and trying them all out over time...

Or you could get it all packaged up in one step by step program: Hobby to Hustle.
Invest in yourself, in your business and start seeing results in a few months.

If I were to set the price of this course according to the number of hours of preparation and teaching I put into it, the total value would be in excess of $7000, but...
You can get started today for a one-time payment of $497.
Or you can opt into a payment plan of $182 per month for three months.
Note: pricing includes GST, which is an Australian business tax of 10%.
Who's this course for?

Hobby to Hustle is perfect for you if...
You're just getting started. You're not sure how to start hustling, but you know you want to ultimately create your own floral business, creating floral magic for weddings and events around town. You're probably not going to quit your day job immediately to do this, but you want to start. And you want it to look professional whilst you're balancing all the things!

You've already created a brand but you're stuck on what's next. How do you land your first few clients? How do you get your name out there? How do you price? You wish you knew all these secrets so you can actually start floral-ing it up.

You feel like your business isn't going anywhere. You're feeling like you're hustling so hard but things ain't working, and you feel like giving up. You're not booking many gigs and you're not getting any closer to your dream lifestyle of full-time flower hustler. How do people do it!?

You have limited time and money. You don't want to be spending thousands of dollars on getting a website or a magazine ad just to get your name out there. And you're busy with your job/life/family, so you don't want to waste time trying to figure things out.

This course isn't a good fit for you if...
You have an established floral business and you're rocking it. You're attracting the right customers, booking gigs and feeling great with how the business is going. Then you probably don't need my help!

You have the ability to outsource from day one. You have money to hire professionals to do things for you from day one, and you're not worried about the time it takes to get going.

You don't like learning stuff online. You prefer in-person teaching and find online courses aren't your thing. That's cool, it's not for everyone. But if you haven't done one before and you're just not sure if it'll work for you, I do have a 30 day 100% money-back guarantee so you can give it a trial.
Learn step by step how to build your dream floral business using practical and proven strategies!
Frequently Asked Questions
When does the course start and finish?
This is completely in your control, as there is no formal start or end date. Once you've enrolled, you'll gain lifetime access to the course, which includes all the videos, downloads and course materials. Each module of content within the course is released to you one week at a time, so you don't get overwhelmed with it all from day one.

I recommend spending at least 5 weeks studying each module (i.e. one module a week) and implementing what you're learning along the way. The course will be updated over time, so you may hear from me via email down the track and receive bonus materials or major updates to any module.
Do you offer any refunds or guarantees?
Of course! Creating this course took a lot of time, passion and late nights, so I seriously believe that it will be beneficial to your business. You should start seeing results over time, depending on how fast you implement the strategies. But you do actually have to do the work. Magic doesn't happen without any hustling.

But having said that, if for some reason the course isn't working for you: you've started it, done some worksheets, tried implementing some strategies and you can't see anything improve, then please let me know. Send me an email within 30 days of purchase, and I'll gladly give you a full refund.
What if I'm not sure whether I want to get into weddings? Is this course still for me?
As long as you're passionate about building a floral design business - whether that be for weddings, celebrations, corporate - then Hobby to Hustle will be useful to you. I do not focus on how to manage a physical florist shop front. All the areas covered in the course like pricing, branding, strategy, and marketing are all areas of business that should be relevant regardless of where you plan to physically house your business. Think of this course as a business crash course for florists in the modern era, with a focus on digital tools.
What if I don't have a separate day job and my floral business IS my full-time thing? Can I still take this course?
Definitely! It doesn't matter if you're full-time, part-time, or casual-time on your floral business. If you're having problems trying to carve out your niche in the market, attracting the right clients and booking weddings, and you need help - this course is for you.

Being full-time on your floral business will simply mean that you should have more time and brain power to make things happen and invest in your business. You should be able to see progress faster (since you have more time to spend hustling) than someone who is working a separate day job!
What if I'm interested in taking my hobby to a hustle, but my hobby isn't floral design but something different? Is this course still relevant?
This one's a hard one. It will depend completely on where you are on your journey and how much specific help you're looking for. Throughout this course, I use a lot of floral business examples and go into detail on particular topics that are specific to the industry, such as event prep. Having said that, there are many areas in the course that go beyond any one field.
Topics like business strategy, branding and marketing are all areas that will be relevant regardless of what your hobby topic is. Ultimately, you need to make the call on whether you think there'll be value in this compared to what else is out there. Luckily, I have a 30 day money-back guarantee, so you're welcome to give it a trial first!
P.S. Depending on feedback, I might look at one day going beyond floral business, in terms of content and courses, so if you are interested, please do let me know here.
Why did you choose to do an online course? Aren't you afraid of creating more competition?
Lots of reasons! My three main reasons are: 1) it took me a while to work things out for myself when I first started, and I would have loved, loved, loved to have something like this to put me on the right pat from day one. So instead of just wishing, I'm doing and giving back.

2) I've studied a lot in my life and I am a huge fan of online courses and digital content that I've invested in for my own education. It's so much more affordable compared to in-person workshops, you get lifetime access AND the best thing, is that you can make it work for your lifestyle, at your own pace.

3) When I first started my business, it was daunting and being fearful of competition was common, particularly since I was trying to break into the industry. But you know what? I've learned so much about myself, about fear and about building a business over the last few years, that I've learned to let go. Competition is healthy and makes us do better. I prefer community over competition, and instead of focussing my energy on being afraid of competitors, I should be focussing on improving myself. There's room for everyone, particularly when it comes to something as creative as floral design, as everyone has their own unique style.
Dream big. Invest in your business.
Hobby to Hustle is the step by step program to help you hustle smarter, so you can turn your floral hobby into a profitable business to create your dream lifestyle.